Gas Rises as Europe Struggles to Fill Russian Supply Gap
Jun 27, 2022 by Bloomberg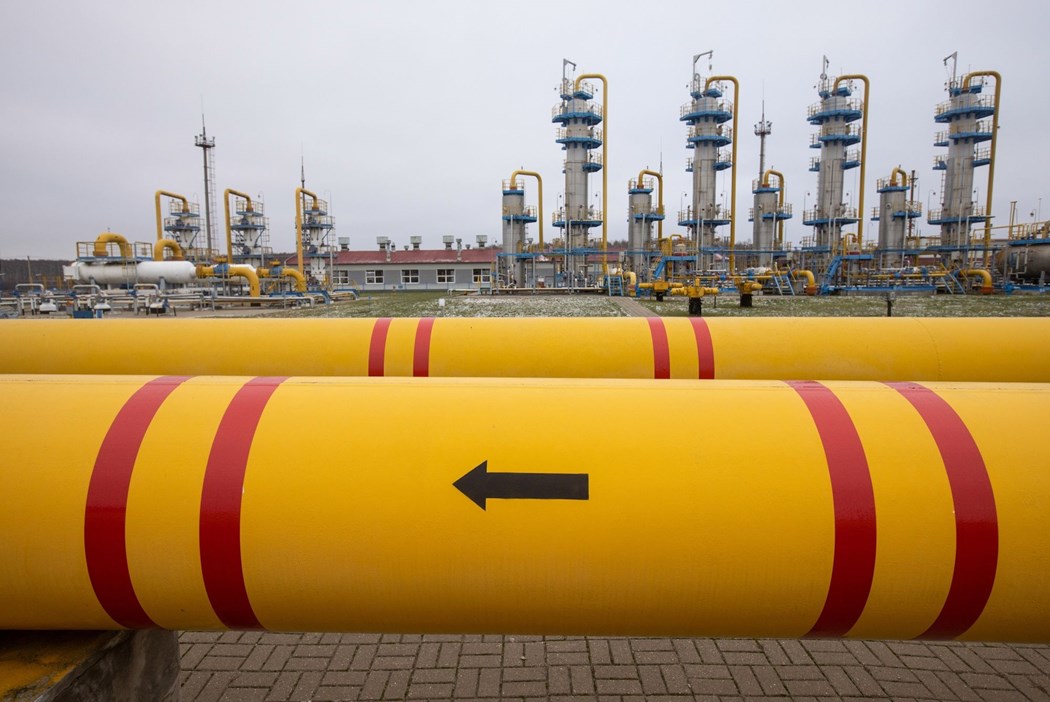 ure>
Pipework showing flow direction at the Kasimovskoye underground gas storage facility, operated by Gazprom PJSC, in Kasimov, Russia, on Wednesday, Nov. 17, 2021. Russia signaled it has little appetite for increasing the natural gas it transits through other territories to Europe as the winter heating season gets underway. Photographer: Andrey Rudakov/Bloomberg
(Bloomberg) -- European natural gas prices rose as Russia's deep supply cuts are slowing the pace of refilling storage sites, threatening to fall short of the levels required to keep homes warm in the coming winter.
Buyers have found it more difficult to replace Russian gas from elsewhere after flows through a major route to the European Union were cut by 60% earlier this month. Germany is warning of rationing, while EU Energy Commissioner Kadri Simson said Monday there may not be enough supply worldwide to fully replace Russian flows.
"There's the threat of a scenario where gas would have to be rationed which, in my view, would lead to a severe economic crisis in Germany and Europe," German Economy Minister Robert Habeck said before a meeting of European Union energy ministers in Luxembourg. "A supply crisis in one member state will lead to an economic crisis in another."
Also read: EU Confronts Low Gas Storage Risk in Test of Unity on Russia
Full storages are critical for Europe to get through winter when demand for heating peaks. Stock levels are currently more than half full, but still below the average of the last five years. A cut-off in Russian supplies could mean EU inventories are less than 75% full by Nov. 1, Simson said, below the 80% target.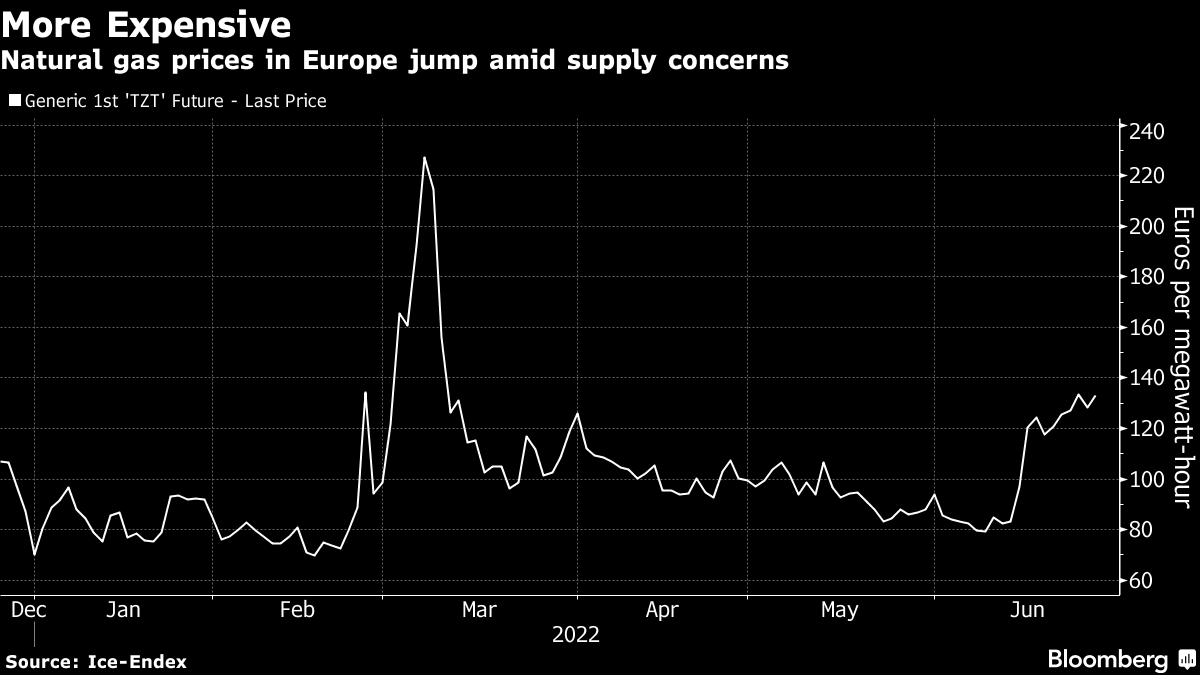 High gas prices are already forcing industries to cut demand and putting further pressure on the European economy that's struggling with surging inflation and meager growth. Sufficient reserves are also key to allowing members nations to help each other out by sending supplies to countries with shortages. Scarce stocks this winter could challenge that unity.
Calls to cut consumption are growing in order to avoid such a situation. Chief executives of French energy companies urged consumers to immediately conserve electricity, gas and oil. The German government has already unveiled a package of measures that includes incentives for industry to reduce demand.
"The situation is serious," Simson said. Russian flows "might fall even further. We have to step up our response to this Russian action. Russia has chosen a tactic of blackmail. We have to ensure we are prepared for any scenario."
Dutch front-month gas futures, the European benchmark, settled 0.7% higher at 129.46 euros per megawatt-hour, after increasing 9.1% last week. The UK equivalent gained 1.3% to 171.91 pence a therm.
LNG Imports
European companies have boosted imports of liquefied natural gas, and have secured more deals for longer-term supply mainly from US providers. However, incremental purchases are set to reach 80-100 billion cubic meters by 2026, or about 60% of the volume imported from Russia in 2021, according to Bloomberg Intelligence.
At the same time, northeast Asian spot LNG prices were set to head higher on unusually hot weather in Japan, which may further intensify competition for the tanker-borne fuel. 
"If gas prices do not reflect reality, we should intervene to give a clear signal that we will not accept any price and that we will cut in the margins by traders and so on," Belgian Prime Minister Alexander De Croo said. "I think it is the right thing to do. We are all just collectively ruining ourselves."
(An earlier version of this story corrected the rate of cut and removed erroneous inventory data from the 2nd paragraph.)
More stories like this are available on bloomberg.com
©2022 Bloomberg L.P.