European Gas Extends Blistering Rally as Supply Woes Deepen
Jul 04, 2022 by Bloomberg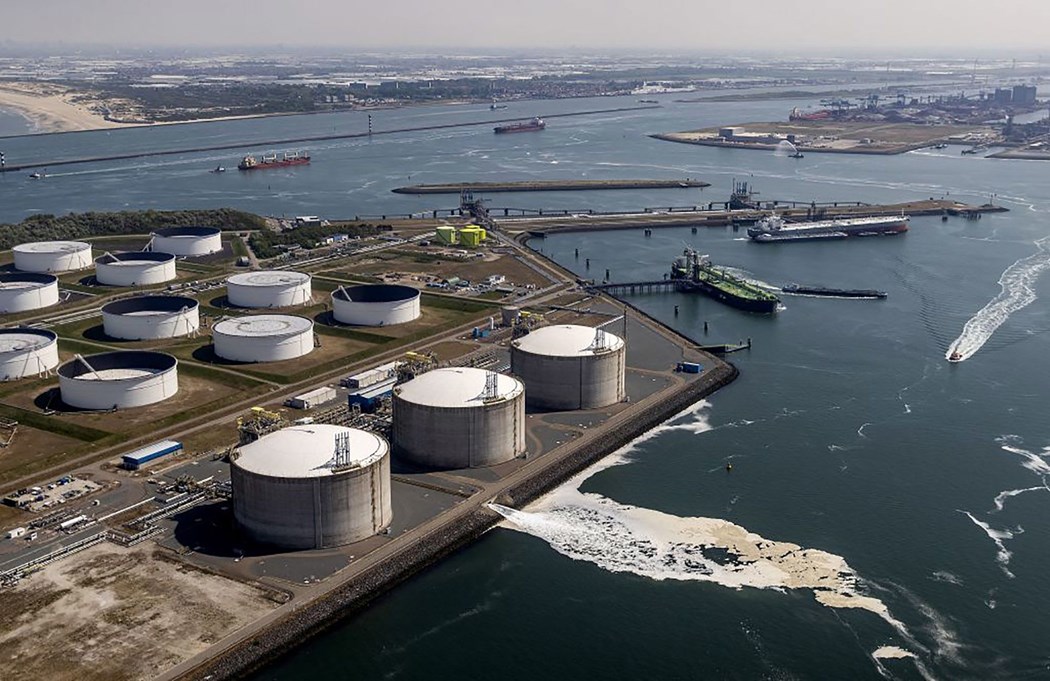 (Bloomberg) -- Natural gas in Europe rose to the highest level in almost four months as planned strikes in Norway threaten to further tighten a market that's already reeling from Russia's supply cuts.
Benchmark futures, which have more than doubled this year, surged 10% on Monday. A strike at a number of fields in Norway, which is due to start overnight, will escalate further from July 9, if no solution in an ongoing wage dispute is found, according to a local union. 
Norway's exports are becoming increasingly important for Europe as Russia's shipments drop to multiyear lows and a key gas-export facility in the US suffers a prolonged outage. Monday's price surge underlines the deep worries in the market about any additional disruptions, with traders largely brushing aside Norway's separate move on Monday for higher production from several projects that would allow output at full tilt into next year.  
"Supply concerns are extremely high and the market continues to add risk premium," analysts at trading firm Energi Danmark said in a note. "The situation will remain tense this week and we expect further increases if flows remain low."
Read also: The Great European Energy Market Bailout Is Only Getting Started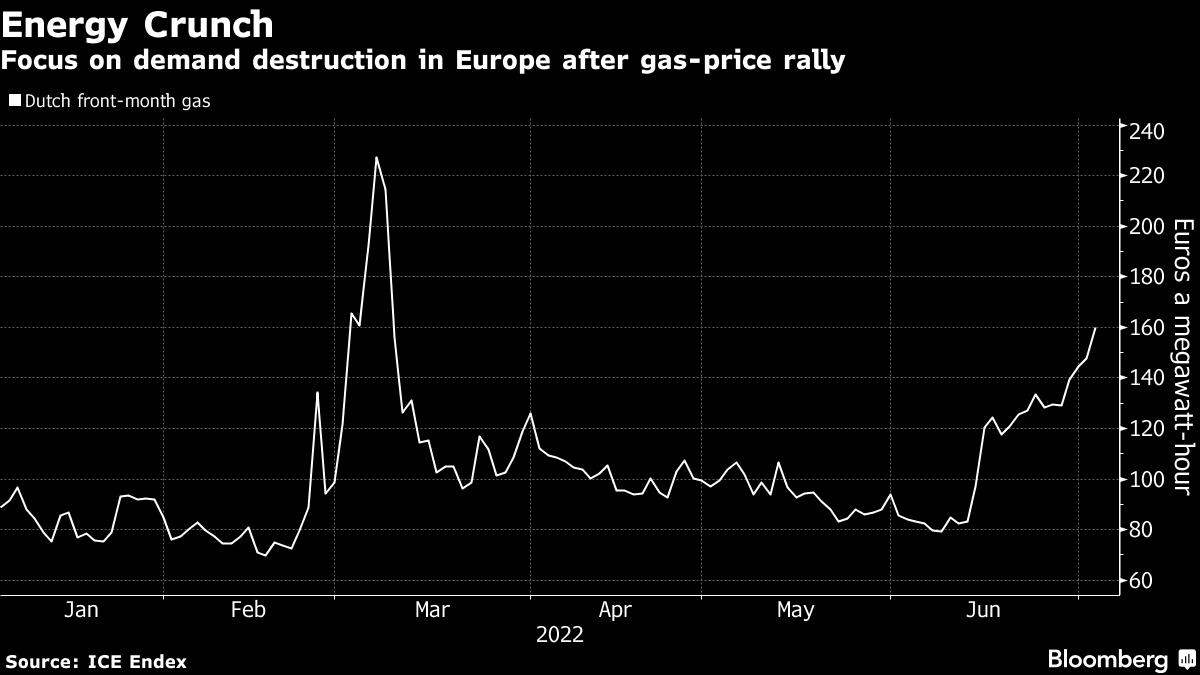 Norway's oil and gas lobby had warned that the strike threatens 13% of daily gas exports in Europe even before the action was expanded into the coming weekend to include the additional projects. 
Dutch front-month gas futures, the European benchmark, settled at 162.94 euros a megawatt-hour, the highest since March 8. The equivalent contract in the UK, which is heavily dependent on Norwegian supplies, surged 17%.
The market has been struggling with supply for months. Russia's exports dropped in the past few weeks after a number of European buyers refused to comply with the Kremlin's demand to be paid in rubles for pipeline gas supplies. On top of that, state-run exporter Gazprom PJSC slashed shipments through its biggest Nord Stream pipeline by 60% in June, citing international sanctions that disrupted maintenance of crucial equipment. 
In a separate development, a Gazprom official said that the company is seeking a coordination of Russia's LNG and pipeline exports, for which Europe pays in rubles, to resolve "currency competition" between the two. It's unclear how this may impact the nation's supplies of the super-chilled fuel but any disruption could deal another blow to the market -- and could further intensify competition for the fuel between Europe and Asia. 
LNG WRAP: Asia Spot Prices Rise to Low-$40 Range on Tight Supply
Demand Destruction
The Nord Stream pipeline is scheduled for a full shutdown next week for annual works. And Germany, Europe's powerhouse, has raised doubts that it will resume supply following the maintenance. 
Major industries in the country could face collapse because of gas-supply cuts, Germany's top union official warned before crisis talks with Chancellor Olaf Scholz starting Monday. The energy crunch is already driving inflation to record highs, and could lead to social and labor unrest, Yasmin Fahimi, the head of the German Federation of Trade Unions, said in an interview with the newspaper Bild am Sonntag.
With prices at these levels, "there is no doubt we have entered demand destruction territory, which eventually may help stabilize the market," said Ole Hansen, head of commodity strategy at Saxo Bank A/S. "In the short term, and with battered and bruised traders increasingly turning off their screens to go on holiday, we may see lower activity with the news flows dictating the level of volatility."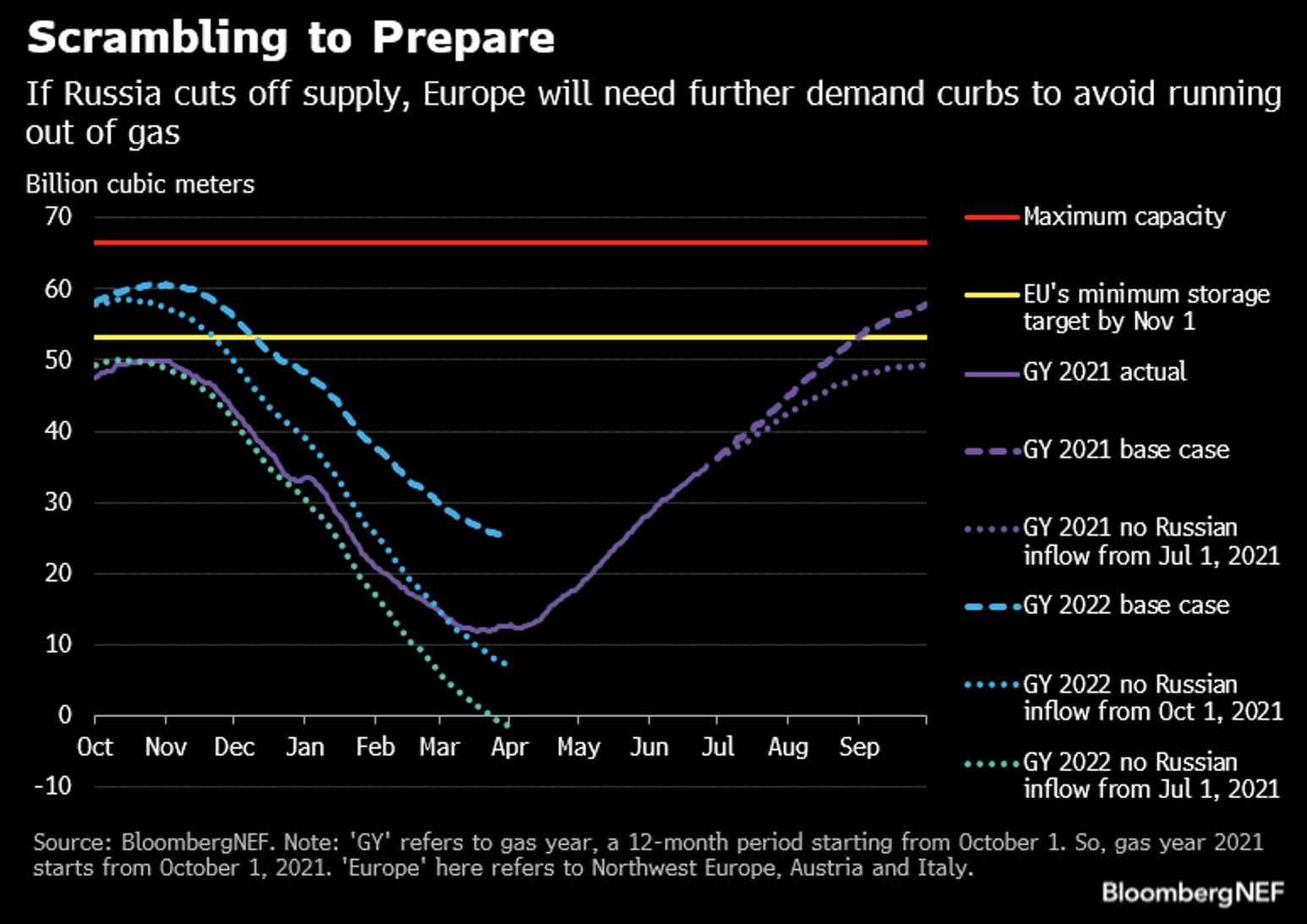 Germany's industrial sector, with a 35-40% share of gas demand, appears particularly vulnerable to the potential risk of Russia halting flows as stockpiles for winter household and district heating are set to be prioritized, analysts at Bloomberg Intelligence said in a note. 
While power stations have some flexibility to switch to other fuels, a full cut in Russian supply to Germany would see a demand destruction of 20-25 billion cubic meters, or 27% compared to 2021, they said. 
More stories like this are available on bloomberg.com
©2022 Bloomberg L.P.