Policies and partnerships key to accelerating hydrogen deployment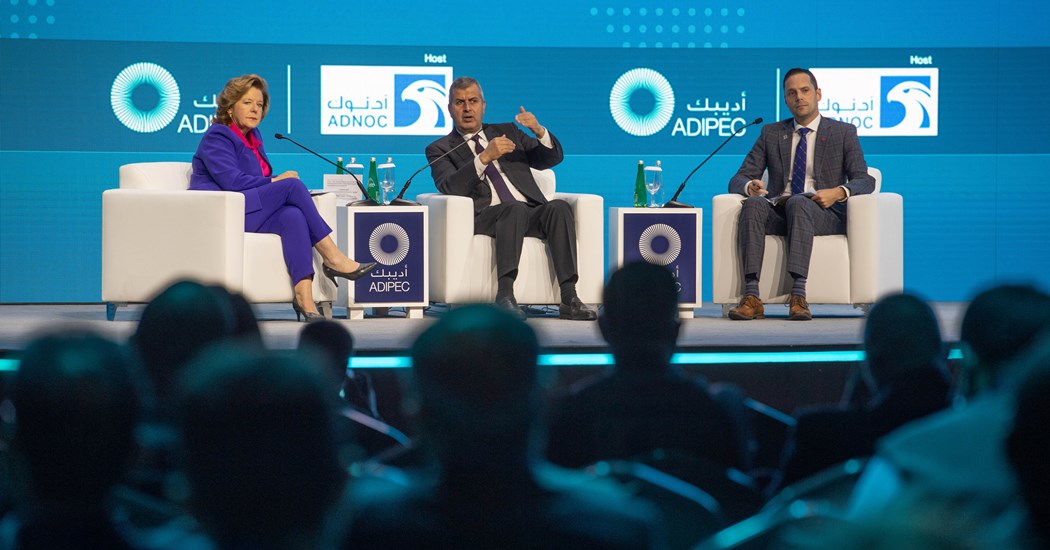 An array of interdependent factors, including production capacity, demand, market security and investment in infrastructure and technology are all vital to further hydrocarbon deployment. That was the message from the session Building bridges for accelerated hydrogen deployment: strengthening policies, partnerships and collaborations, a ministerial panel from the Hydrogen Strategic Conference on day two of ADIPEC. Dr Saleh Al Kharabsheh, Jordan' Minister of Energy and Mineral Resources and Matt Jones, Minister of Jobs, Economy and Trade for the Canadian province of Alberta, discussed a range of issues and challenges in their respective parts of the world.
Things are progressing well in Alberta, which produces four million barrels of oil and 11 billion cubic feet of natural gas per day, and two and a half million tonnes per year of hydrogen. "We have significant expertise from our professional oil and gas sector that we've been able to apply and leverage in hydrogen," said Jones.
All those natural resources are overseen by the government but mined and processed via an entirely private industry. So, it's a market-based system that demands tax breaks, fast regulatory approvals, minimal red tape, and, of course, low costs, he said. As Alberta has shifted to 30 percent of energy produced with renewables, the government has focused on a petrochemical incentive program, which covers 12 percent of capital costs to attract net-zero hydrogen production facilities.
The government has also supported the establishment of six industrial hubs to attract new business and create economies of scale. "And then those are also located around favourable geology for carbon capture," said Jones. "We›re exploring 28 different carbon capture areas around Alberta." Jordan has made significant movements toward developing its own renewable energy resources, shifting from importing almost everything to having 27 percent of electricity generated by solar and wind. Its national energy strategy aims to have 50 percent generated by renewables by 2030.
Dr Al Kharabsheh said the country was well on its way to "energy security in terms of availability, affordability and environmentally sound resources", helped along in it solar efforts by 310 days of sunshine per year. Due to its strategic placement in the region, it has electricity partnerships with Egypt, Palestine, Syria and is pursuing them with Saudi Arabia too. "Also, we have the Arab gas pipeline that extends from the southern part of the country that can be also utilised, which is used today for the transportation of natural gas," he said.
Relationships with Egypt, Georgia and Syria need to be strengthened as part of supporting that pipeline, he said. "That will really help all countries to achieve their energy security and achieve our targets related to decarbonisation," he said.
Jordan is also trying to develop an incentive system to attract hydrogen projects that meet the demand of local markets, while meeting the challenge that these projects present in terms of higher startup costs. To further build its energy security, another goal is to "remove all, all, all" energy subsidies, says Dr Al Kharabsheh.
Alberta has been focused on building its own domestic demand for its hydrogen, whether through residential and commercial heating, trucks, trains and heavy vehicles or industrial use, natural gas and power generation. "So the idea is to create sufficient demand locally," said Jones. "That you can get a hydrogen economy off the ground to an economy of scale, that it is competitive, and then you can look to export."
And in a theme that has been emerging at ADIPEC, it seems that the focus on green hydrogen – created via electrolysis of water using renewables – can be prohibitive due to the cost. With a low-cost natural gas base, in Alberta, Jones said: "we're going to be focused, at least in the near term, on the opportunities in blue hydrogen."
KEEPING THE ENERGY INDUSTRY CONNECTED
Subscribe to our newsletter and get the best of Energy Connects directly to your inbox each week.
By subscribing, you agree to the processing of your personal data by dmg events as described in the Privacy Policy.