High cost of nuclear threatens its place in the new energy mix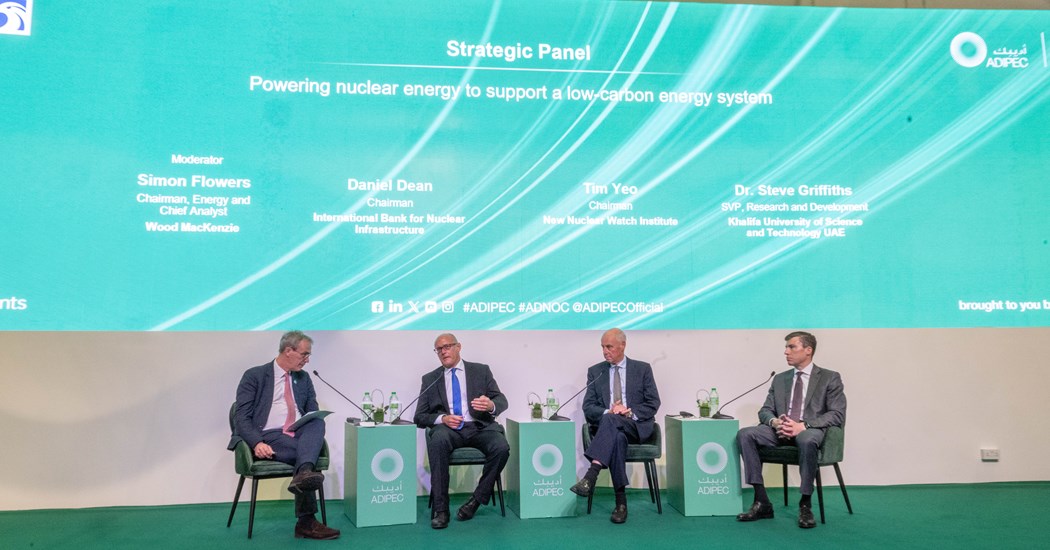 On a strategic panel titled, Powering nuclear energy to support a low-carbon energy system on the third day of ADIPEC 2023, industry pundits acknowledged the challenges of nuclear adaptation and cited costs as the biggest drawback of them all.
Tim Yeo, Chairman, New Nuclear Watch Institute is a champion of nuclear. He said: "I'm convinced that the world desperately needs nuclear. One thing we know for certain is there's going to be a great increase in the demand for consumption of electricity. And therefore how we generate electricity is critical to solving the threat of climate change."
With a seemingly insurmountable price tag, Yeo proposed a way to bring the cost of nuclear down. "I think that we can see significant decreases in the cost of nuclear provided we learned the lesson of the last 40 or 50 years, which is that the only ways of bringing costs down is to pick one technology and then producing high volume," he said.
Daniel Dean is Chairman of the International Bank for Nuclear Infrastructure (IBNI), a multilateral infrastructure bank focused on financing and supporting nuclear infrastructure, nuclear industry projects and programmes, including supply chains.
He said: "One of the issues – the big issue that I see – is there are very unique impediments for nuclear and these are all related to nuclear financing, and it means trillions of dollars of capital in the nuclear space over the next 2030 years to achieve this doubling or tripling of nuclear capacity going from 400 gigawatts to 1200 gigawatts. We also need the private sector investment to achieve this level of scaling this quickly so that's one of the focus elements of IBNI."
Dr Steve Griffiths, SVP, Research and Development, Khalifa University of Science and Technology UAE suggests that excellence in manufacturing is the way to cut costs and keep variance tight. He said: "Get the cost down low by having small modularity around the reactors, deploying them on site. The easiest deploy with smaller workforces involve smaller risks to deployment and makes the variants of cost much smaller."
KEEPING THE ENERGY INDUSTRY CONNECTED
Subscribe to our newsletter and get the best of Energy Connects directly to your inbox each week.
By subscribing, you agree to the processing of your personal data by dmg events as described in the Privacy Policy.