Modi's Green Dream at Risk as Indian Renewables Hit by Headwinds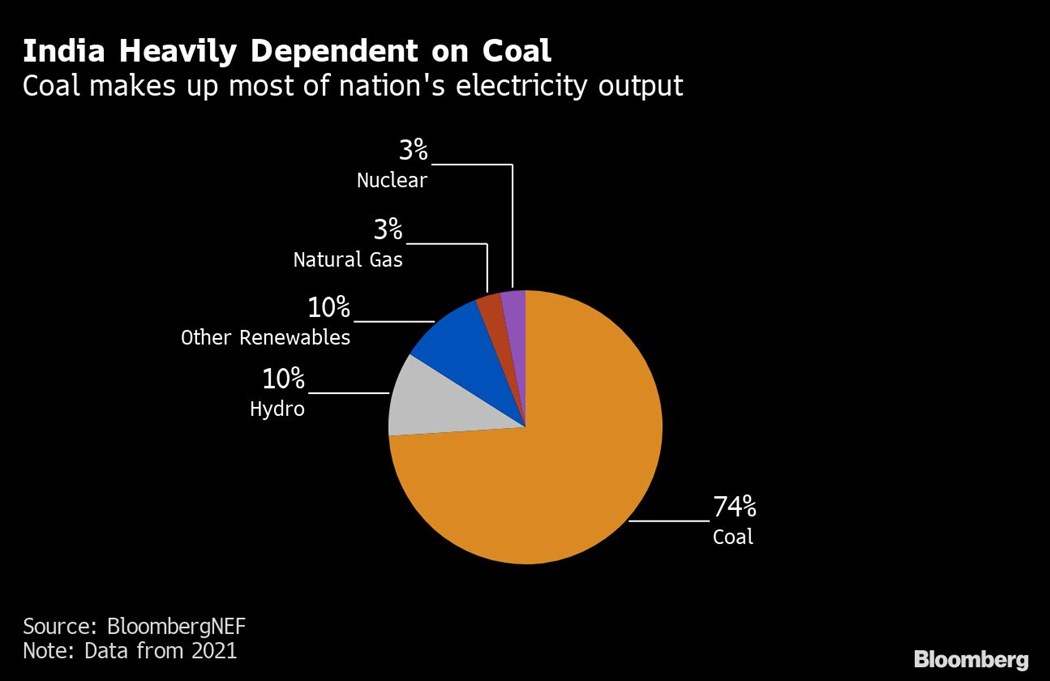 (Bloomberg) -- It took less than two weeks for TotalEnergies SE to put a massive green hydrogen project with Adani Group on hold after the Indian conglomerate was rocked by allegations of fraud.
The deal — part of a plan in which billionaire Gautam Adani's clean energy business would have invested $50 billion over the next decade in the emissions-free fuel — remains in limbo, a victim of Hindenburg Research's explosive short-seller report.
The fallout is unlikely to be limited to the Adani empire. The brouhaha over the business practices of the group — which became one of the country's biggest investors in renewable energy after expanding from transport infrastructure — means there will likely be greater scrutiny of Indian corporate governance across the board.
Energy transition investments in India already lag behind other major nations, and now the cost of capital is increasing as global interest rates rise, while the Inflation Reduction Act is creating more opportunities for clean-power investors in the US and its free-trade partners. All that spells trouble for Prime Minister Narendra Modi's goal to put India at the forefront of climate action.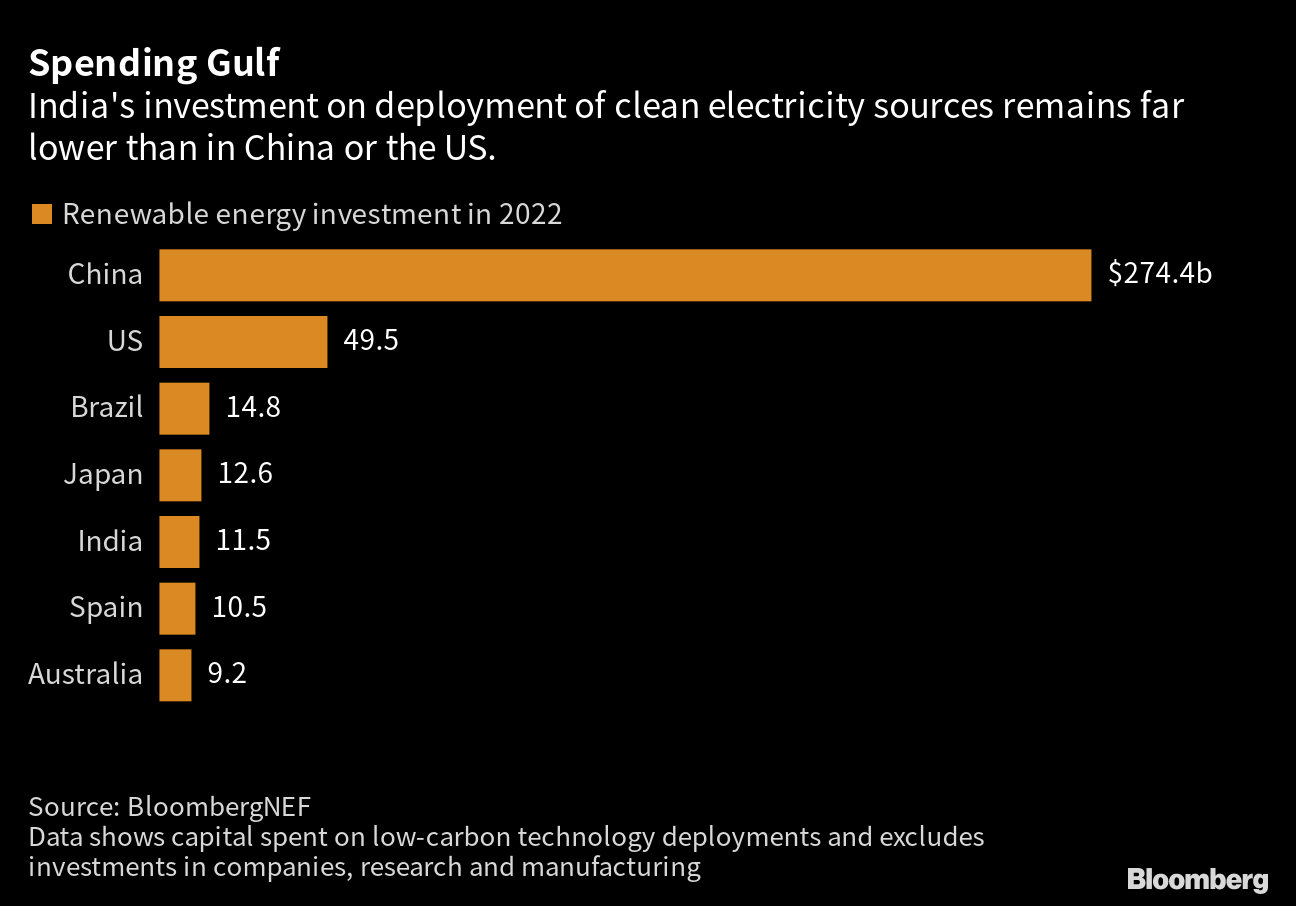 "The markets are enforcing discipline on companies, including Adani, to reduce debt and bring in equity," said Shashank Krishna, a London-based partner at law firm Baker Botts LLP, who advises clients on energy and infrastructure deals. "Some projects that are borderline economically viable or may not have a strong business case will have to be shelved or reduced in size." 
The multiplying headwinds are making the government's goal of tripling clean electricity capacity by the end of the decade less achievable. New Delhi wants to increase the current 169 gigawatts to 500 gigawatts by 2030, taking its percentage of the total from 41% to almost two-thirds, a key milestone en route to net zero by 2070. 
If it falls short of this target, the world's third-largest emitter will be forced to keep relying on coal for longer. That's bad news for a fast-warming planet, and also for an Indian economy that's hoping to lure investment from multinationals that are under pressure to de-carbonize their supply chains. 
The renewable energy ministry didn't respond to an emailed request for comment.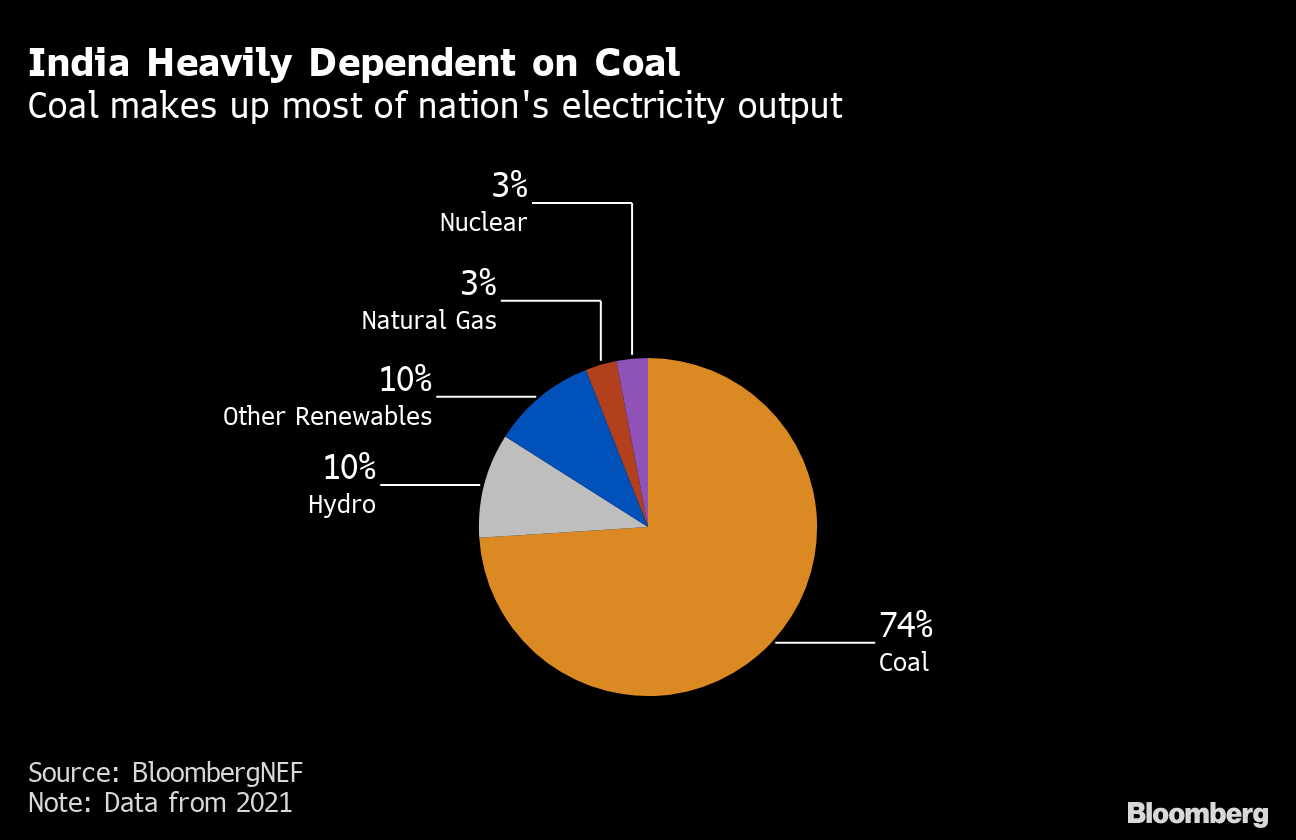 While India installed 15 gigawatts of grid-connected wind and solar capacity last year, 44% more than in 2021, it's still well short of what's needed to reach the 2030 target. And, ominously for Modi, making a major increase in the level of investment was already proving tough before the Adani crisis. 
Investment in the deployment of renewable energy technology rose about 4% to $11.5 billion in India last year, but that's still lower than a recent peak of $12.7 billion in 2017, according to data compiled by BloombergNEF. It's also a fraction of the $274 billion total in China and $49.5 billion spent in the US.
Fiscal incentives such as the IRA are drawing a lot of capital that could have potentially found its way to India, said Anita George, the co-founder of Edhina Capital, an Indian private equity firm looking to invest in clean energy, mobility, green buildings and recycling opportunities. "That has been a dampener for all the emerging markets, not just India." 
India's unstable policy environment — with import levies, court orders and doubts over whether the state-level utilities will honor commitments to purchase electricity — are also giving international investors pause. Indian projects need to offer far higher returns than in less risky destinations to compensate for the uncertainty.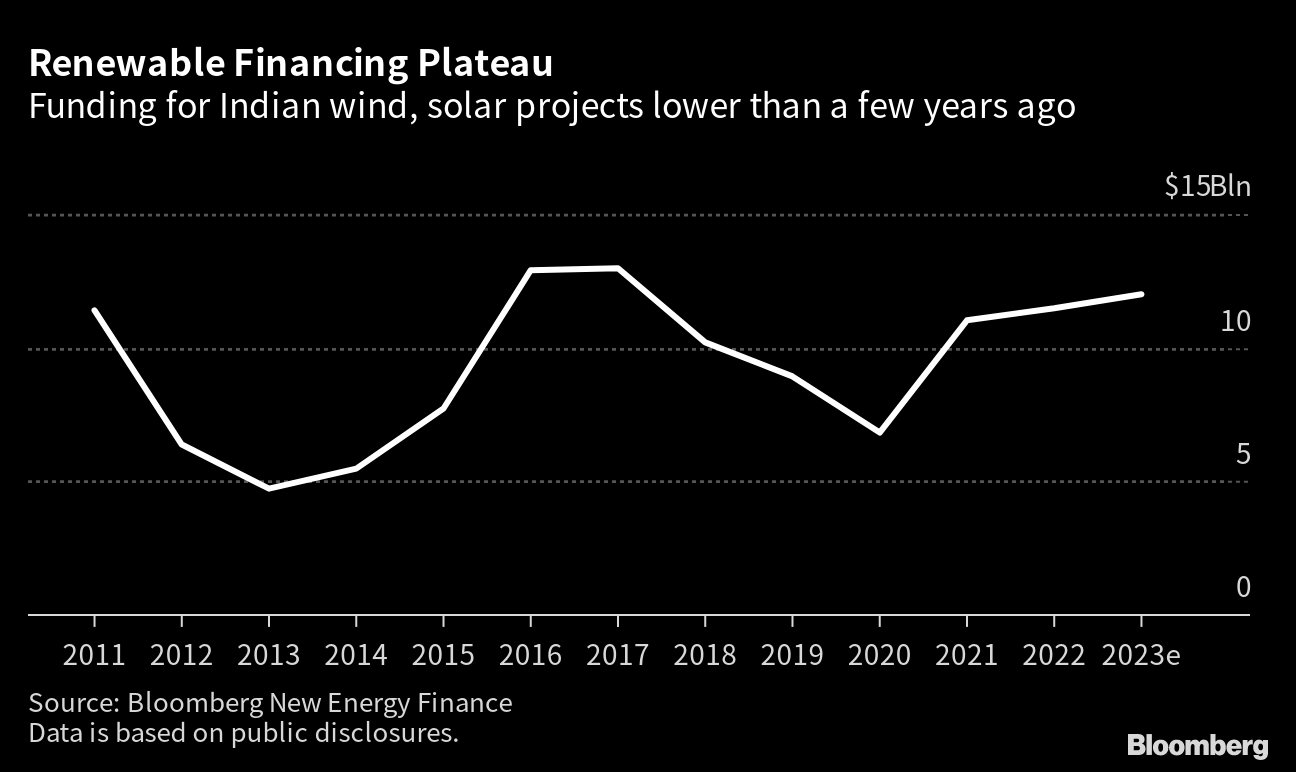 "From a global investors perspective, risk-reward in India today seems slightly out of line," said Pramod Kumar, head of investment banking at Barclays Bank India. If Indian projects offer returns on equity of 11%-12% and debt of 8%, "globally people are saying given the inflation impact, these returns seem somewhat low," he said. "So that's affecting some deal activity."
To meet its 2070 net zero goal, India requires investment of $160 billion annually across its energy sector through 2030, according to the International Energy Agency, roughly triple current levels. With the industry heavily reliant on a handful of local billionaires and mounting hurdles facing international investors, it's hard to see the country attracting that amount of funding without an aggressive effort from New Delhi to improve its policy settings.
"If you don't clean up your act, investors will not wait around," Baker Botts' Krishna said. "They have other options."
©2023 Bloomberg L.P.
KEEPING THE ENERGY INDUSTRY CONNECTED
Subscribe to our newsletter and get the best of Energy Connects directly to your inbox each week.
By subscribing, you agree to the processing of your personal data by dmg events as described in the Privacy Policy.